What Was She Wearing – feat. Lauren Conrad & Ashley Olsen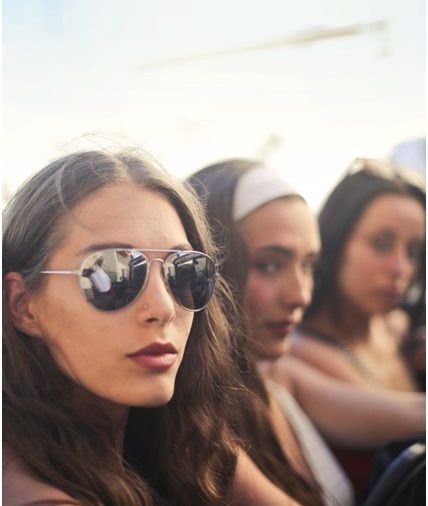 We read somewhere once that if you ask, you shall receive—so with this lovely sentiment in mind, we present your Wednesday instalment of What Was She Wearing: Answers! As always, the detailed information below was compiled and written by WWWD's fantastic interning duo, Allison and Jessica. Read on for all the celeb style particulars!
Lindsay Lohan
What's the only thing better than cute shades? Cute, affordable, designer shades—especially since the words 'affordable' and 'designer' rarely appear together. With this in mind, if you want to score Ray Ban sunglasses similar to the ones Ms. Lindsay Lohan wore recently, check out these Marc Jacobs for $179.95. Sure makes us want to break out into the chorus of Hair's "Age of Aquarius." Let the sun shine (so we can throw on our Marc Jacobs shades)!
Michelle Trachtenberg
Spelling her last name may be semi-difficult, but Michelle Trachtenberg's errand-running ensemble (pictured) was effortless. It's no wonder that our readers were curious about her simultaneously cute and comfortable tee and bag. The tee is by Thomas Wylde and retails for $225 on Net-A-Porter. The handbag is the Brigitte Bag by Marc Jacobs, retails for $1295, and is from the resort 2005 collection. While one person we contacted at Marc Jacobs thought the bag might be available at some of their stores or select Bloomingdales, we think that sounds a little too wishful. Try eBay instead.
Lauren Conrad
America's favorite reality-TV show star, Lauren Conrad (aka "LC"), earned our respect at the 6th Annual GM Ten red carpet event last month in this chic, off-white ensemble. It seems her Teen Vogue internship is sharpening her already keen fashion sense, as she wowed us in this Catherine Malandrino dress. If you love it as much as we do, you can contact a designer specialist at Nordstrom's, 1-877-543-7463, or visit Catherine Malandrino, for similar styles.
Ashley Olsen
Ashley Olsen's arm is always a sure place to look for a quality handbag. One of our readers fell in love with Ashley's recent tote-of-choice—the Givenchy's Nightingale Satchel. Similar versions are available at Barneys starting at $1695. Here, Ashley carries the large black leather version, paired with Ksubi/Tsubi Phoenix Sun Super Skinny Zips jeans, available for $247 at My Catwalk.