Oil Based vs. Water Based Decking Stains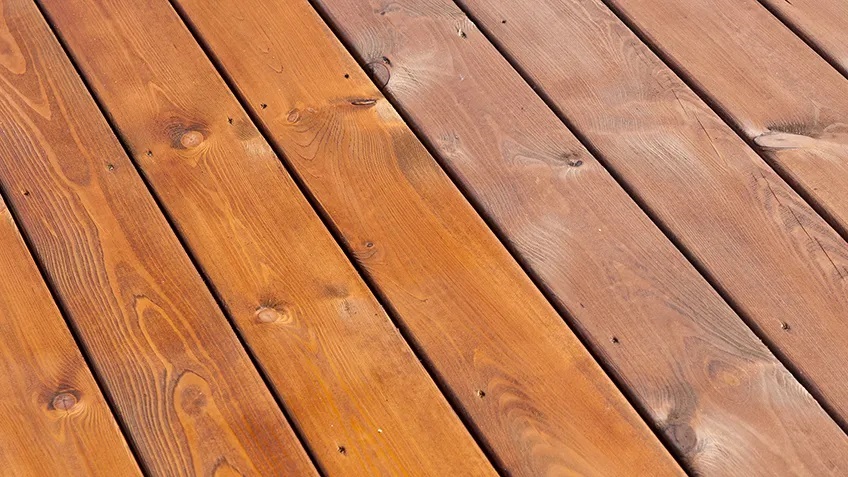 Whether it's a wooden fence, a front porch, an outdoor deck or even patio furniture you want to protect these outdoor surfaces from the outdoor elements. So, the best course of action is to always use a wood sealer to protect these surfaces from the elements. But, looking for example a redwood stain and sealer isn't as easy as it sounds. There are several to choose from and there is the fact that there are two different types of sealers to choose from oil base and water base. Which one is better? That's a good question. Both have their advantages and disadvantages.
Advantages of Oil Based Stains
Oil based stains have long been considered the gold standard stains for natural wood surfaces. These have several advantages that contractors have sworn by for years such as:
Withstand Harsh Conditions
Penetrates Deeply into Wood
Natural Wood Grain Shows Through
Applies an Even Coat
Blends well For Touch Ups
Disadvantages of Oil Stains
Despite being an excellent sealer for natural wood surfaces there are some disadvantages to an oil based sealer, these are:
Takes Longer to Dry
Difficult to Clean Up after Applying
Not too Environmentally Friendly
Flammable and Strong Odor
Advantages of Water Based Stains
Water based sealers have their own advantages. One of the main one is that these work great for those decks that are stained a certain color. For example a redwood stain and sealer is ideal for water base sealer. Some other advantages are:
Retains Color Well
Dries Quickly
Environmentally Friendly
Not Flammable
No Odor
Disadvantages of Water Based Stains
Despite having advantages there are disadvantages as well. One of the main ones is that this sealer doesn't last as long as oil based sealers. On average these sealers can last a few years before having to be reapplied. Another thing to keep in mind is that these don't hold up as well in harsh weather conditions as the oil base stains do.
Which One to Choose Oil or Water Based Stains
So, which sealer is best for you? That is something that isn't easy to answer. Both stains have their own benefits. Perhaps it comes down to various parameters that you will need to take into consideration. The first thing is what type of area do you live in. For the most part we can determine what type of weather conditions are, for example, if your area is prone to snow in winter, or harsh rain conditions you may want to invest in an oil base stain. However, if you are sensitive to certain odors and chemicals you may want to consider using a water base. Still can't decide, some manufacturers are now offering a hybrid version of the two stains together. These offer several of the benefits found in both oil and water based stains. Bottom line is weigh your options and decide what is more important to you, a lasting seal that lasts for years or easy clean up while being as friendly to the planet as possible. Once you have decided between oil, water base or a combination of both then it's time to decide which brand you're going to buy. Remember to take the time to look at the different brands and find out what previous customers have said. You want to buy the one that is going to give you not just the best protection while giving you the natural beauty you desire.