Nussecken , German Nut Triangles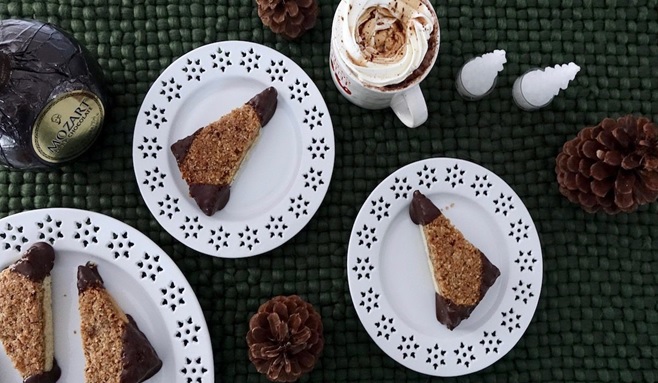 Nut Corners is called Nussecken in Germany & make a delicious and easy add to your cookie platter. They can be made ahead and keep fresh for weeks.A buttery shortbread base ,a hidden layer of apricot jam covered with a delicious hazelnut topping,all finished off with chocolate- dipped corners .
These is pretty easy recipe , and especially if you have a food processor as you can blitz the nuts and process the shortbread dough in seconds .
You can use a bag of chopped mixed nuts instead of hazelnuts but the flavor is different. I think the mix is too peanut-ty and they overpowered the taste ,hazelnuts are definitely the way to go .Hazelnuts are however pretty expensive. The traditional recipe and tend to used ground hazelnuts too , so if you find that ,that's perfect ,if not , ground almonds work absolutely fine to bring everything together.
How to make Nussecken or Nut Corners:
Ingredients:
For the shortcrust pastry:
300 g flour
1 teaspoon baking powder
150 g sugar
1 teaspoon salt
2 eggs
150 g butter
For the nut cover:
200 g butter
175 g sugar
2 pack vanilla sugar
300 g ground hazelnuts
150 g flaked almonds
400 g apricot jam
200 g dark chocolate
Instructions:
Step 1 :
Mix flour and baking powder for the dough . Add sugar ,salt and eggs ,as well as the flakes butter and knead everything quickly into a smooth dough .wrap it in foil and put in the fridge for 30 minutes.
Step 2 :
In the meantime, melt the butter ,sugar and vanilla sugar with 5 tablespoons of water in a saucepan. Then stir in the hazelnuts and almonds and bring to the boil again.
Step 3 :
Preheat the oven to 180°C top / bottom heat . Roll out the dough on some flour and place on the baking sheet .
Step 4 :
Brush the dough with the jam . Spread the cooled nut mixture evenly over it .Bake the whole thing in the oven for about 30 minutes on the lower rack until it is golden brown. Straighten the edges of the slightly cooled cake and then cut into strips about 8 cm wide ,which are then cut into squares,which in turn are cut into triangles .
Step 5 :
Heat the chocolate coating until it is free of lumps . Dip the corners in the cooled nut and place them on baking paper to dry .
Tips for making Nussecken:
Melt the chocolate in a glass bowl over a pan of simmering water or in the microwave if you prefer. Dip or spoon the melted chocolate over the two corners of the triangles. Allow to set on wire rack .
You can store the nut corners in an airtight tin .
You can chop the hazelnuts into small pieces,this is easily done in a food processor. They do not require to be uniform , random & knobbly is better.
If you've used a food processor for the hazelnuts,give it a quick dust out then place all ingredients for the shortcrust into and process until it forms a dough .
If you don't have a processor,combine flour ,sugar ,and salt then rub in the butter with your fingertips,it becomes a dough .
Store nut the corners in a metalbox . To keep it moisture inside your bakery you might add wrapping foil between the layers of your nut corners. You can also cover the corners with dark chocolate,which is a nice add on .
Now you just made a typical German triangles .A shortbread bottom is covered with jam and topped with a caramelized hazelnut crust . Sounds good ?
Enjoy your Nut Corners.