What makes Nandi hills a great place for corporate team outings?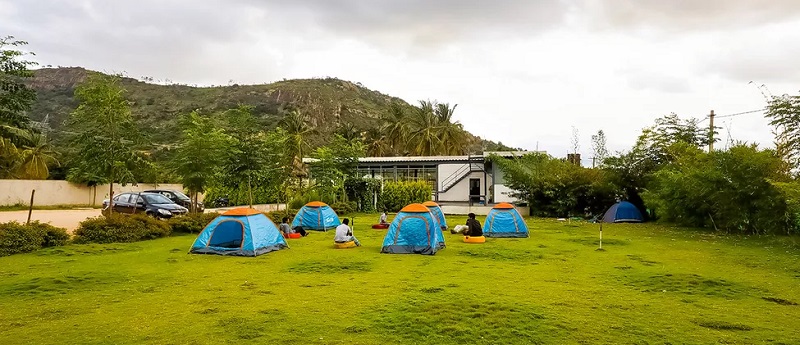 After chasing endless deadlines and brainstorming ideas for weeks – we all deserve a break! A corporate team outing is a well-deserved escape from the cubicle-ised lifestyle to natural surroundings to unleash the stress of work and revitalize. Making employees explore new avenues, the corporate outings are organized by the companies to help employees bond, recharge, and boost energy.
Nandi Hills, or Nandidurga, the hill fortress about 60kms from the city of Bangalore is a popular destination for most of the corporate outings from the best of companies in Bangalore. Owing to the lush greenery, panoramic views of the valley and exciting activities to indulge in – Nandi Hills has become a solicited choice for companies to organize team outings. Here are some of the reasons why Nandi Hills fits as a great place for corporate team outings.
An initiative to unleash in nature
As a quick break from the pollution, chaos, and stress of the city – Nandi Hills is an escape into nature. The drive to Nandi Hills is comforted with fresh greenery, secluded roads and revering silence which feels therapeutic. Nandidurga, unlike Bangalore, holds on to the natural goodness of nature with its outline of deep forests, lakes, waterfalls, and scenic beauty. Given that the employees spend most of their time in the office surrounded by gadgets and files, Nandi Hills breaks free from the routine and greets ones with the goodness of mother nature. The astounding beauty of the hills soothes the mind of the stressed-out employees.
A short and invigorating escapade
About 60 kms from Bangalore, Nandi Hills fits perfectly as a getaway destination for a corporate day out. While Bangalore traffic is one of the worst hurdles that every employee fights through to reach their office every day, companies plan to keep the commute short when it comes to a corporate day out. Being just 60kms from the city of Bangalore, Nandi Hills is one-destination that is closest to Bangalore and yet is the most silent and peaceful getaway.
Adventure luxury resorts to create experiences
A corporate day out is about taking employees out of their usual routines and indulging in some fun activities. The adventure luxury resorts in Nandi Hills have crafted the best of luxury facilities, adventurous indulgences, and rejuvenation therapies to unleash in nature. To conduct games, create bonds and craft a thrilling holiday escapade for the employees, these luxury retreats help companies plan corporate outings easily. Discovery Village is one of the adventure luxury resorts in Nandi Hills with an amphitheater, tent stay, adventure sport and camping facilities to craft an itinerary full of adrenaline rush.
Source: Discovery Village
Temples, waterfalls and scenic views
Nandi – Lord Shiva's bull mount and gate-guardian deity of Kailasa. Nandi Hills is named after Lord Nandi, and the beautiful temple – Yoga Nandeeshwara, that sits atop the hills. A visit to Nandi hills doesn't just treat one with the endless natural escapades but also highlights the magnetism of Lord Shiva and historical stories revolving around the hill. Nandi Hills is an itinerary to the numerous temples and historical places in Nandidurga i.e. Tipu's Drop, Bhoga Nandishwara, Brahmashrama, Amrita Sarovar, etc. A tour of the Nandi Hills viewpoint and waterfall is a must!
Camping nights and sunrises
Nandi Hills serves as the perfect avenue for a night of camping, trekking through the mighty forest trails and making way for a golden sunrise. Companies can organize group activities to build up team spirit amongst employees as they camp in the forests and climb up the forest trails to chase the sunrise. While the trek can be tough for the beginners, it does treat one with new challenges and perspectives. Activities like bonfire, games, etc keep camp nights interesting.
Source: Wikipedia
Adventure activities – push your limits
Apart from the scenic beauty and natural solitude, Nandi Hills is also known for its adventure sports and experiences. It's a perfect tour for the companies to give their employees a taste of adventure. Employees can experience paragliding, mountain biking, or just take a long walk in the hills as they open their eyes to the majestic views of the valley from different points of Nandi Hills. New experiences build up new motivation in people to push their limits.
From ancient Hindu complex, temples, villages, etc to the mighty forests, panoramic views, and waterfalls – Nandi Hills is a serene and eventful tourist destination on the outskirts of Bangalore for a fun getaway from the hustle and bustle of city life.