Types of Stirrups You Can Use for Horseback Riding?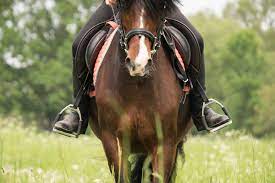 If you are into horse riding, you need to be very careful and take all the safety measures and precautions. In order to avoid any risks, you need to use various safety accessories.
One such important piece of safety equipment is stirrups. It is a safety tool that helps you to place your foot firmly while riding and maintain grip.
There are different types of stirrups available for horseback riding. Each one has its own advantages and disadvantages. So, you need to purchase it according to the purpose.
You need to look for the one which is safe as well as provides the best support while mounting and jumping the horse.
Here are some of the best types of stirrups you can use for horse riding. Make sure you consider all the factors before you buy one.
It is one of the most common types of tools used in horse riding. The best thing about this type is that it will last for a long time. If you want a classic look, you can go with this one. You will get it in different brands and price ranges. It is also one of the most affordable options. Riders have been using this type of tool for a long time. Instead of replacing this tool entirely, you can simply change the pads.
This type of stirrup is perfect for riders who have joint problems. If you have any problems with your ankle, you can use this one. It is more comfortable than other types. It is available in different types of brands. It is more or less like Fillis. However, the metal sides have a rubber coating for comfort.
It is one of the cheapest options for riders who want to easily free their foot during fall. It is the same as Fillis. But there is one difference. On one side, there is the elastic strap. So, it is a breakaway version. The elastic strap helps you to easily remove your foot. However, sometimes it might break due to impact. So, it is mostly good for young kids who are practising jumping. It is available in different price ranges.
It is a modern type of stirrup at an affordable price. It is lightweight and made up of hi-tech polymer. The best thing about this type is that it doesn't cost much but offer great functionality. They come with rubber pads for grip. It is also available in different colours.
It is a popular brand which helps you in jumping. It is perfect for all types of riders. You can use it for casual riding as well as for professional riding. It is made of aluminium which gives you stability and lasts for a long time.
As the name goes, it is good for safety. It is designed in such a way that it helps you to easily free your foot before a fall. You can use it for practising riding and all the other disciplines of riding.