Things to Bring When Bringing Your Dog to the Beach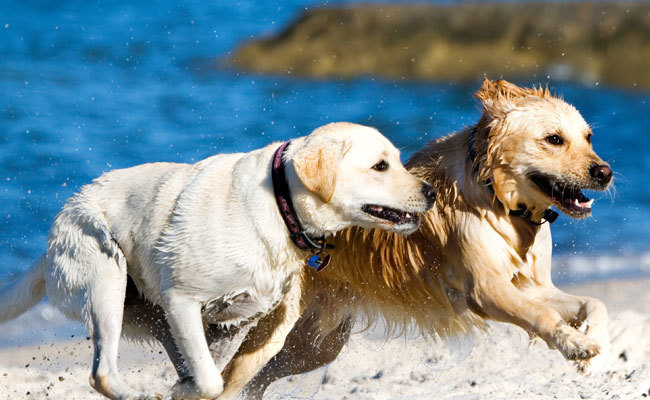 Autumn may be upon us, but there's plenty of good weather to wring out of the year yet, before the ominous pall of winter looms over us. And that means we get to spend many an hour with our beloved furry friends enjoying fun play in the bright and brisk October days. And if you're lucky enough to live within easy reach of one of Britain's beautiful beaches, what better way to put your capering canine through their paces? A fun day out at the beach is a wonderful way to bond with your dog. But, as in all things, it's important to be prepared. When bringing your playful pup to the beach, be sure to bring the following to ensure that they (and you) have a great time that's fun and hassle free.
To ensure you both get the most out of your trip, be sure to load the car with…
Lots of healthy snacks!
What's a fun day out without delicious treats? But while you might want to indulge yourself with a cone of chips, a bag of doughnuts or some other indulgent fare from one of the traditional seaside kiosks, you'll want something a little healthier and more upmarket for your little friend.
Bring some healthy but tasty snacks to give them the quick energy they need to cover from energetic play on the beach or in the sea. Choose a brand that uses quality ingredients to ensure that your pet gets the nutrition they need from a trusted pet food UK manufacturer. 
Bottled water
You certainly don't want to be in a situation where there's "water, water everywhere but not a drop to drink". All that running, jumping, fetching and swimming is thirsty work. Be sure to bring plenty of bottled water and a travel friendly bowl so that your dog can stay hydrated while they play. 
A dog bed or blanket
You might want to stop for a break on a sun lounger or deck chair while traversing the sandy beach. Make sure your canine companion has somewhere clean and comfy to spend their downtime, too!
Plenty of towels
Anyone who spends a lot of time at the beach knows that sand can get absolutely everywhere, and dog fur can seem to carry about three times your pet's weight in sand. As such, unless you want to spend the rest of your day sweeping or hoovering sand out of your car, it's a good idea to bring plenty of towels, both to help them dry off after swimming in the sea and to get them nice and sand-free after their beach-bound frollicks. 
Canine sunscreen
Remember that just because there's a chill in the air, doesn't mean that you and your pet shouldn't both be protected from the sun. Be sure to pack and apply sunscreen both for you and your four legged friend. 
When you're completely prepared, you can relax safe in the knowledge that you have all you need for a great time and to make memories that will last forever!