How do you get rid of air allergies? What should you know?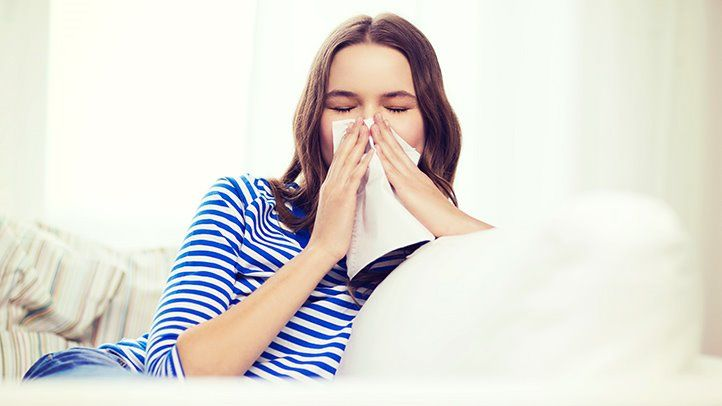 Most developed countries have seen an upsurge in the prevalence of allergy disorders. Many air contaminants have been identified as contributing to the rapid rise in their prevalence, despite the fact that the specific mechanisms behind this rise are yet unknown. 
Air pollution has been linked to a rise in asthma, allergic rhinitis, and other allergy illnesses by epidemiological and toxicological study. Traffic and industrial operations are responsible for a wide range of pollutants, including ozone, nitrogen dioxide, and particulates. Asthma and other respiratory disorders are more likely to worsen when exposed to pollutants in the air. It is vital to identify vulnerable subpopulations in order to target therapy and prevention of pollution-induced respiratory disorders.
How do you get rid of allergies to the air?
Keeping your home clean on a regular basis will help alleviate your allergy symptoms. Here are a few tips for keeping your house clean while also managing your allergy symptoms.
Air purifiers for the house
Air purifiers for the home are on the rise, in part because of concerns about air pollution. Best air purifiers purify the air by removing pollutants, allergies, and toxins from the atmosphere. Essential oil diffusers and humidifiers, which add particles to the air, are the exact opposite of these devices. Purifiers and filters both work in different ways. Purifiers may also sterilize particles, unlike filters, which can just remove them.
Weekly vacuuming is recommended
The HEPA filter in your vacuum is essential. Some allergens are so minute that they can easily get through a vacuum's standard filter. In other words, every time you vacuum, you could be inhaling them after they have been sucked up from the floor.
Cut down on the clutter
Dust mites, cockroaches, and other allergies can be hidden under piles of clothing or boxes.
When cleaning, use a mask
Leave the house for a few hours once you have finished your house cleaning. You will be less likely to breathe in allergens you have kicked up.
Mold should not be allowed to grow in the restroom.
Regularly clean the tile. Do not forget about the shower curtain, either. The washing machine may be able to handle it.
Do not use perfumed cleansers or detergents
The fragrances in cleaning products might aggravate allergies. Instead, choose for unscented items, eco-friendly or organic.
Bedding should be washed on a regular basis in hot water, at least once
It should be at least 130 degrees. Those temperatures are hot enough to kill dust mites, according to the EPA. Any washable stuffed animals should be done the same way if your child suffers from an allergy.
A few pointers for newbie readers
Pollen and mould can be found on clothing that is kept outside for long periods. Instead, dry your clothing in the dryer. When cleaning, use a mop and a damp cloth to remove dirt and grime from the surface. They will keep allergens in rather than disperse them. Outside entrances should be kept neat and tidy. Hire a professional cleaning service for your residence. If you are allergic to dust mites, you should avoid dusting, cleaning, and vacuuming.
Allergens can be trapped in carpets and rugs. Exposure to triggers is minimized when you have vinyl, tile, or hardwood flooring installed. Opt for more compact, easy-to-care-for rugs. Purchase luxurious bed linens. To keep dust mites out of your bed, cover your mattress and pillows with dust-proof covers. Before entering the house, remove your shoes.
Pets should not be allowed in the bedroom. When it is too hot to open the windows, turn on the air conditioning. Filtering the air using an air conditioner will keep out allergens including dust, pollen, mould, and other irritants.