6 common mistakes to avoid when buying bangles for your bridal wear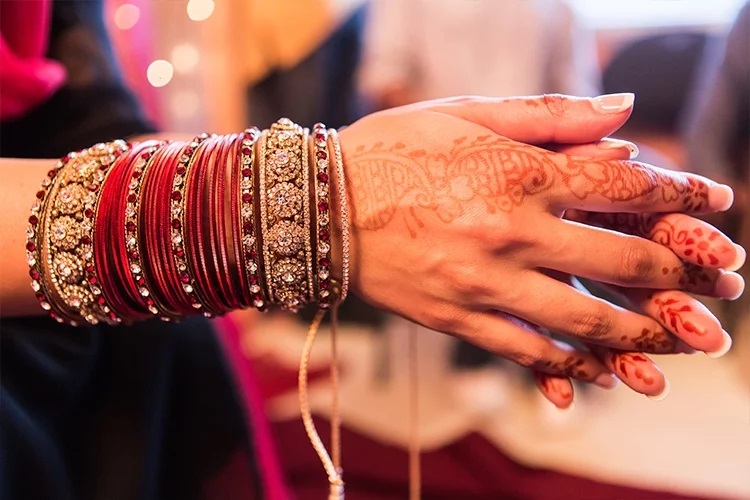 A girl's wedding is probably the most important day in her life. Every other movie shows that how girls are waiting to grow up and have the dream wedding she has been planning about since childhood. The reality is not too different. Even though you have planned everything out, there can be chances of you making a few mistakes in the whole process. Jewellery is probably the most important and costliest thing in a wedding. Many brides have been making mistakes when it comes to bridal jewellery, you need to consider a lot of things before buying it and maybe that is whythe gold bangles set design that you have kept in mind is not be right for you.
Here are the six most common mistakes that one should avoid when buying bangles for your bridal wear:
Do not buy them in a hurry: one common mistake that people make is they buy all jewellery including the bangles before the dress is bought or finalized. That way, you will have obligations to buy clothes according to what matches with the jewellery. It is always better to have a clear idea of the kind of clothes, what colour and design you want and later on decide on the bangles.
Buy according to the occasion: Indian weddings have a lot of different ceremonies. From haldi, mehendi, sangeet to the wedding day. All these occasions call for different style or designs of bangles. Bangles add a lot of statement to your whole look hence it is important to choose wisely. You can go for a casual look for haldi and mehendi and a bit more heavy design bangles for your sangeet and wedding. There are so many bangle designs which are new in the market and there is something for every occasion so do not worry.
Investment: jewellery is a very big asset and is definitely one that lasts really long. Treat your bangles as an investment. Get a design and pair that can be worn at many occasions. It is very important that you do no overspend when it comes to wedding shopping. Buy what can be of use later.
Be flexible: it is your wedding and you might feel that you want that exact designer bangles that Kareena Kapoor wore in the magazine cover, but trust be it is not necessary. There might be better designs which may look even prettier on you. Hence be flexible and open to other suggestions.
Matching it all: do not forget to match your other jewellery items with the bangles. Mismatched items look good but only when you pull it off well. Do not try to experiment and end up looking bad on your special day.
Being comfortable: it is really important that you buy jewellery that you are comfortable wearing. Just because the design you loved is not available according to the size of your wrist, do not settle for just anything. It is always better to look simple and feel comfortable than look fabulous, yet feel uneasy.
Gold bangles are the staple accessory for women across the world. Simple and elegant, or exquisite and bold, these can accentuate the attractiveness of any ensemble. The significance of gold as a harbinger of prosperity and happiness makes these ornaments even more coveted. In some communities, pure gold bangles are esteemed with a special reverence for the bride at her wedding. However, income constraints might sometimes hinder you from splurging on this favourite jewellery item. Hence, the following guide will help you to make judicious use of your money and derive satisfaction from your product.
Tips to keep in mind before purchasing solid gold bangles:
Personal preferences are always the first priority: This is important especially if you are buying for a loved one. Get to know about the style she prefers or the angle she usually wears. The pro tip is to buy a bangle that compliments the person's skin tone. The hand bangle design should be such that it is comfortable for the wearer and suits the occasion to wear. While simple and thin bangles are the go-to accessory for working women, bridal attires are complemented best by ethnic and thick bangles carved with figurines.
Negotiate on the manufacturing charges: The labour cost involved in creating the bangle is usually incorporated into the selling price, that is, the buyers have to pay for it. Hand-crafted bangles also cost more than the ones made in the machine. The same is applicable to the design of the bangles. Pure gold bangles with little or no design will cost less than the ones intricately carved. Since these costs are not organised, there is always scope for bargaining on the making charges.
Get the purity verified: This is the most important factor. As 24-carat gold is very soft and prone to damages, bangles for daily basis wear are made from 18-carat gold, that is, with seventy-five per cent purity to make it durable.
Fix a budget: You can opt for 14 or 18-carat bangles instead of 22-carat bangles if you are on a budget constraint. Make a plan about the type of gold bangle you want to buy and save money accordingly. You can go online and browse through online retail sites which offer great bargain on their items
Always buy from a reputed source:  To obtain the best quality, it is always prudent to buy gold bangles from a reliable seller. Make some research on the company from where you are going to purchase the bangles. Inquire about the credentials and evidence of certification.
Last but not the least; luxuriate in your love for gold by being a little cautious and a lot more prepared. You can never go wrong with solid gold bangles for an anniversary or birthday gift. Besides, there are stylish designs available for men too, so the ladies can surely try out these options while choosing presents for the special man in their lives.
Bangles add a different sophistication and beauty to the look of the bride, make sure that you do not make any wrong move and you buy the right ones!