Ride Non-Stop with Livguard Two-Wheeler Batteries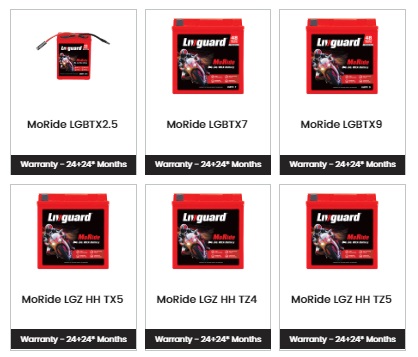 Imagine a scenario where you have left the busy life of the city behind for a few days and taken to the mountains; it is just you and your trusted two-wheeler cruising along the winding roads as the cold and clean air hits your face when suddenly you come to a halting stop. The reason – you chose the wrong battery for your ride!
At Livguard, we do not want this scenario to ever become your reality. To avoid such a situation, choose Livguard's 2-wheeler batteries that are designed to deliver a power packed ride. Perfect for your motorcycle and scooter, the Livguard MoRide – two-wheeler battery comes with a 48 months warranty.
Here are four reasons why you should choose Livguard MoRide:
Cranking Efficiency – The battery has a perfect blend of the grid structure and plate chemistry that ensures higher cranking power. During difficult rides, the cranking efficiency matters a great deal. Without the necessary power, it might become difficult to start your machine. An efficient cranking mechanism with the adequate power ensures a smooth ride.
Low Maintenance – Livguard batteries are designed to be low maintenance. This mean that they work efficiently with minimal water loss. Thus, you do not have to worry about checking and filling the water in the batteries again and again. The batteries perform optimally with minimum interference.
Higher Safety Standard – Your safety is our priority at Livguard. Our batteries are specially engineered with flame arresters at venting locations to ensure high-level safety.
Designed for Long Life – Livguard batteries are built to last. The robust grid structure and double clad separation offers long life to our batteries. This means that no matter where you go and how far you go, our battery will never give up on you.
The Livguard two-wheeler batteries are ideal for the narrow lanes and tough terrains of India, giving you maximum power and a smooth non-stop ride. Its 48 months' warranty ensures that you get the best quality battery and have a hassle-free exchange or refund in case of any manufacturing defects.
We offer the following services:
Battery Finder – Find the best fit for your vehicle.
Dealer Locator – Find your nearest Livguard dealer.
Warranty Registration – Register your Livguard Product online for complete peace of mind anytime, anywhere!
Service Support – Contact us for inquiries about product purchase and order, or feedback and complaints.
So, get the best fit for your scooter or motorcycle today and ride non-stop with Livguard 2-wheeler batteries.