Madrid Bucket List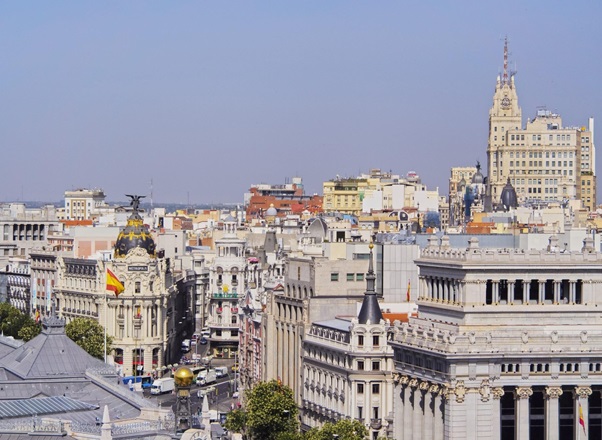 The beautiful and vivacious city of Madrid has a lot to offer to its guests. From bustling city squares to one of the most important historical monuments. The vibrant atmosphere of the city and its people will take you by speed. Beautiful buildings, big parks, cafes, bars, crazy bachelor parties, every minute of your time spent here will be keeping you on your feet! Here is a list of things you should put on your Madrid Bucket List.
Plaza España
Plaza España is one of the busiest traffic intersections and the perfect starting point for any tourist. From here you can walk your way through Madrid's most important sights. This square dates back to the 18th century.
The square features a beautiful monument dedicated to the famous Spanish writer Miguel de Cervantes Saavedra. The monument was built in 1925 it consists of Cervantes looking over one of his most important characters Don Quixote and Sancho Panza. The phrase tilting at windmills was taken from the great novel.
The square is also bordered by Torre de Madrid – the tallest skyscraper and The Edificio España. Moreover, there are a lot of restaurants, bars, night clubs and theaters close by.
Gran Via
Only a ten-minute walk from Plaza España is the crowded and lively part of Madrid Gran Via. This is a favorite tourist street so the occasional shoulder bumping is most likely to occur. But that shouldn't be a problem. It's just a part of the vibrant experience of exploring Madrid.
You can stop and admire a lot of beautiful Art Nouveau and Art Deco facades of tall buildings and just soak in the vivacious atmosphere coming from the crowd and the town itself. This street has been referred to as Madrid's Broadway multiple times. The street has a lot of big screens that are all around you, has a perfect blend of modernity and elegance, a lot of crowded shops, cinemas on every corner and laughs coming from people in bars and cafes. One of the greatest buildings you can see there are Edificio Carrión and the Telefónica buildings.
Puerta del Sol
Another great and lively square Puerta del Sol is definitely worth your time. This is the most famous square in Madrid and has been referred to as the epicenter of the city multiple times. This square has a marvelous city gate which has an image of the sun, hence the name – The Sun Gate. Close by the square you can walk to a number of parks, shops, and museums.
Here you will also see the symbol of Madrid El Oso y El Madroño which is a bear leaning on a tree and eating strawberries. How lovely. Being the nerve of the city it's no wonder why it's crowded especially at night. You can choose from a variety of bars and nightclubs here for your pleasure.
Chocolateria San Gines
This lovely establishment is open 24/7! And has been around since 1894! When you visit Madrid you just can't miss the opportunity to dine here. Here you can taste famous Spanish dish churros served with hot chocolate.
Spanish people usually eat this for breakfast, but being open 24 hours a day who says you can't get a midnight snack consisting of flavoury chocolate goodness?
Retiro Park
Retiro Park is the green heart of Madrid. A place where people from all around Madrid come to take a breath of fresh air, jog, read, and just enjoy their leisure time. This is also a great place to open a cold one with your friends and enjoy a few laughs in one of many open-air cafes.
This used to be a royal park built by Philip IV where all the noble men and women came here to have a good time. The park is really rich with thousands of hundreds of different species of trees, flowers, it's just flourishing with beautiful picturesque scenery. There are also a lot of eye-catching monuments and palaces like the Velasquez Palace, Crystal Palace, Monument to Alfonso XII, etc.
There is also a beautiful big lake in the center of the park where you can rent a rowboat and paddle around while cracking jokes with your friends. Maybe even have a little race if you're up for it.
El Prado
El Prado is one of the most important museums in all of Europe. It was built in the 18th century and is a perfect example of neoclassical architecture. This wonderful museum exhibits thousands of paintings of the most influential artist and hundreds of marvelous sculptures.
You can marvel the works from some of the masters such as Velazques, Rubens, Franciso Goya, Bosch, El Greco, etc. There is a permanent display of great paintings from artist mentioned above like Las Meninas and The Triumph of Bacchus by Velazques, The Garden of Delights by Bosch, The Naked Maja by Goya…
Opening hours – From Monday to Saturday: 10 am – 7 pm
On Sundays and holidays: 10 am – 7 pm
El Bernabeu Stadium
If you're a fan of the Real Madrid team you know where your next stop will be. El Bernabeu Stadium is a UEFA top stadium gathering millions of fans each year. While exploring the stadium you will get access to any part you wish. From locker rooms to the coaches viewpoint. You also be able to enjoy the breathtaking panoramic view of the whole stadium which will surely be carved in your memory. There is also a museum which exhibits trophies and there is a brief lecture on the history of Real Madrid.
Opening hours- From Monday to Saturday: 10 am – 7 pm
Sunday and holidays: 10:30am – 6:30pm
Final Words
This flamboyant land of flamenco dance and music will win your heart over as soon as you step into the city. The energy bar is set on high nonstop. Experiencing this kind of vibe will recharge your batteries for a long time. So start packing your bags, Madrid is waiting for you!